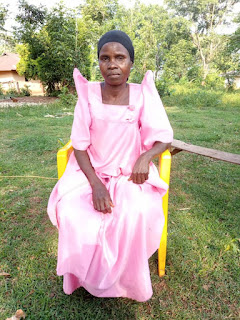 Judith and I cannot sit inside her rented one-room home on the edge of Iganga Town because the day is too hot, so we sit on the veranda on a woven banana fiber mat. I came to meet Judith several months ago when one of UVP's Fistula Ambassadors contacted me about a potential fistula patient. That's what brings me here today: to hear Judith's story.
With the passing of her father, her entire family began to struggle. Judith could no longer attend school because her family could not afford the fees; even food became scarce for the family of seven children. At just 17 years old, and against her family's wishes, Judith married Seifu. She couldn't see any other way to support herself and no longer wanted to feel like a burden to her family. For a few years, things were fine.
Then, a friend told Judith that she should stop taking her contraceptive because it would cause health issues and keep her from having children at all. Shortly after, at 22 years old, Judith became pregnant with her first child. She stayed at her family's home in the village while Seifu worked to make accommodations elsewhere. Finally, at nine months pregnant, Seifu came to help move Judith to their new home. About two hours after arriving to their new home, Judith went into labor. Since this was during the lockdown in 2020, transportation was very difficult, so Judith remained in the village in labor for two days, receiving help from neighbors. Finally, Judith delivered a stillborn baby and immediately began leaking urine.
"I was advised to leave her and marry another woman, but I didn't listen because if it weren't for me Judith wouldn't have gotten fistula," Seifu says solemnly. As a school teacher, Seifu's salary disappeared over night when the government closed the schools, which put them in a tough financial position. He resigned himself to helping her get healed and began reaching out to every person he knew to see if they could help. Then, a friend directed him to UVP and Seifu received the gift he was looking for. He accompanied Judith to the fistula camp where she received a successful repair surgery!
Despite being a rather quiet person, I can tell she is still extremely happy, floating on cloud nine after her successful fistula surgery. Judith recalls, "I used to use three bars of soap per week washing because of the leaking, which is very expensive, especially when Seifu wasn't receiving his salary." At the end of her story, I notice that several of her neighbors have gathered around to listen. Judith says that she doesn't mind the crowd because every person who hears her story is one that now knows about the mystery of fistula and how it can be prevented.
*Judith's story is shared with her consent.
By Tumusiime Loy, Program Coordinator