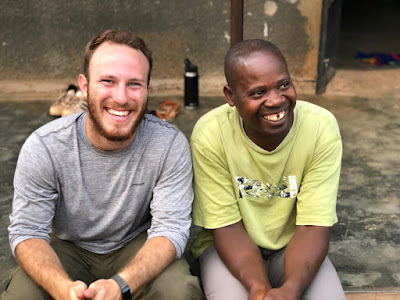 "Where to?"

This is an innocent question from a smiling man. We know to expect this question every time we pass Ivan's home. This question may be innocent, but it has a purpose. Ivan inquires because he plans on coming with us. Traveling long distances, even to other villages, all when he wasn't told he was needed. Ivan is always welcomed, though. His contagious smile infects all of us and leaks into the rest of the community.
To me, he is the hope of the community. Ivan's overwhelming cheerfulness comes in spite of a challenging childhood. When he was young, he went to work in his uncle's sugar cane field, leaving his home in Bulugodha, and even sacrificing his pay to send himself to school. His father's death was the only thing that could force him home, but it couldn't stop him. 
Ivan started a successful shop that he ran for years before he became a VHT. Ivan's characteristics of determination, resilience, and joy were all major reasons that the community selected him as a VHT, but the biggest is his hope. The chairman saw it, the community elders saw it, and now I see it.
When Ivan first took his position, the latrine coverage was very poor, but now almost every household has access to a latrine. This is just one example of how his determination has improved his community. He loves being a VHT because it allows him to continue his search for knowledge. Absorbing all the information from the VHT education sessions, Ivan has become an expert on malaria. He is further able to improve the health of the village this way.
I'm convinced that he could make a difference with just his smile, though. It has made a difference in me. The hope that Ivan has bestowed upon us leads all of us in Bulugodha village to believe that change can happen. I believe this village will live healthier lives thanks to Ivan.
By Jason Maples, Intern, Bulugodha Village