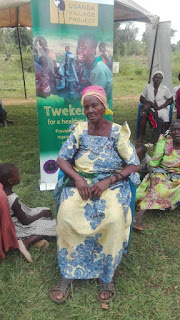 One of the five grandchildren she cares for sits in Zulaika's lap in the grass next to the mosque. Zulaika wants to explain to me why she never misses an HIV outreach hosted by UVP in Bulughoda. "HIV either affects or infects every single family in Uganda", Zulaika states matter-of-factly, the confidence only experience could give.
Zuliaka has unfortunately had to bury two of her five children. To add to the angst of losing a child, the cause of their deaths was a mystery for a long time. Because of their deaths, Zulaika has taken their children, her grandchildren into her custody. Shortly after her grandson came to live with her, he became very ill, so Zulaika immediately took him to the health center. He was diagnosed with tuberculosis, but something caused skepticism in the health workers, so they also tested him for a variety of other things. The result showed that he was HIV positive.
With this information, Zulaika reasons that both her sons perished from the same ailment because their symptoms were very similar. Zulaika reflects, "If it was not for the child falling very sick and admitted, I would not have known what killed my children and how to take care of my grandchildren."
She takes her grandchildren's health very seriously, which is why she comes to all the HIV outreaches. The UVP outreaches offer her an opportunity to consult with the counselors about how to care for her HIV positive grandchildren without having to travel far from home. She also talks with neighbors to act as an ambassador to fight stigma again people living with HIV.
By Josephine Asio, Program Coordinator