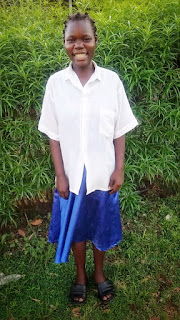 At Kamuli Mission Hospital, other patients crowd around Stella. Just 22 years old, she's a survivor of sexual assault and rape, and a recovering obstetric fistula repair surgery patient.
At the age of 16, while home alone, Stella was raped by multiple intruders. This traumatic event left her unable to control her bladder for months. At 19, Stella became pregnant and after a complicated birth that lasted for days, sadly, Stella's baby passed away. To make matters worse, Stella developed an obstetric fistula. Her husband was not supportive and left her for another woman after realizing the complexity of Stella's health concerns. An initial attempt at repair surgery failed, but Stella persisted.
She eventually received a phone call from a friend that would lead her to the UVP-supported Kamuli Mission Hospital. It was here that Stella received her second and successful repair surgery, and now she sits surrounded by friends and fellow survivors.
"Sometimes when life becomes especially difficult, we wonder if everyone in the world has forgotten us . . . I never lost hope because I had always dreamed of living a positive life".
Stella is a beloved member of the UVP family and we look forward to her becoming a Fistula Ambassador when she is ready.
By Tumusiime Loy, Program Coordinator
Stella's story is being shared with her consent.