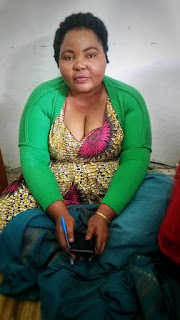 For years, Hajara has been a powerful influence in her community as a Fistula Ambassador. Two days each week, Hajara gives a health talk about obstetric fistula at the main hospital and two other health centers in Mayuge district. She actively seeks out women in her community who may be suffering from untreated fistula and encourages them to contact UVP for support.
In 2012, Hajara suffered from an obstetric fistula following the complicated and painful birth of her baby boy (her 5th child, after two sets of twins). After delivering by C-section, Hajara began to leak urine uncontrollably. She knew that her pain and other symptoms would not go away without surgery, but she remained skeptical that she would recover and be able to return to her daily activities. With the support of her husband, Hajara sought help from UVP. She attended a repair camp in Kamuli and had a successful repair and recovery in 2013.
Following this humbling experience, Hajara felt as if she regained her dignity, empowered to help other women learn about the causes, prevention, and treatment of fistula. Hajara's work as a Fistula Ambassador is guided by her passion and resilient commitment to her community and women in need. Any time a baby is born, you're likely to find Hajara close by, checking in on the new mother.
By Tumusiime Loy, Program Coordinator
Hajara's story is being shared with her consent.