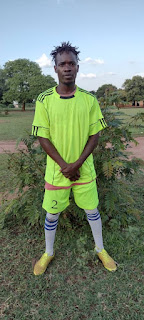 Joel is from Namunkanaga 1. He's got that youthful energy – full of ideas and dreams – and he's always sharing his wisdom with his friends. I met Joel at an adolescent reproductive health activity last August. The weather was perfect; primed for a fun day of football with a bit of health education afterwards. This is our go to outreach event to reach youths, especially young men.
During this session, we taught Joel and his friends about contraception and how to plan out their future families. As one of nine members of his own family, Joel was really engaged in learning as much as her could. Before this session, he wasn't really sure where to go for advice, support, or consultation. Lucky for Joel, UVP was there to answer his questions in an open, honest dialogue.
It can be tough for young men to talk about sex – a sensitive subject in any culture. At UVP, we try to make this conversation loose, normal, and remove the stigma and shame around a topic that is so universal to all humans.
This is my turning point; I will help other youths to overcome the ignorance about sexual and reproductive health!
* Joel's story is being shared with his permission.
By Loy Tumusiime, Reproductive Health Program Coordinator