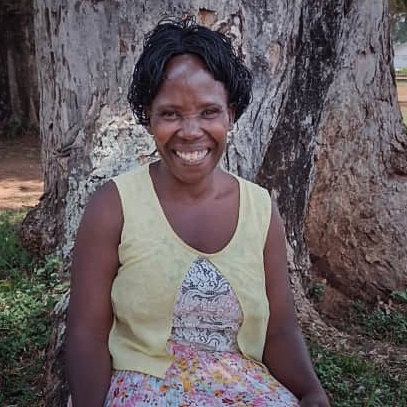 Scovia is 35 years old, and she loves to wear wigs. She married the love of her life in her teens, and became pregnant with a baby boy soon after.
But Scovia's labor was plagued with complications; after three long days laboring, Scovia fell into a coma. Too far from the nearest health facility, her husband decided to pull the baby out himself.
Scovia survived, though her son was stillborn. Five days later, she noticed she was still "leaking." At first, Scovia thought it was water, and a normal postpartum experience.
She had never heard of an obstetric fistula, a childbirth injury that generally develops during an obstructed labor without medical intervention. Fistulas can cause urine leakage, as is the case with Scovia.
Now, five repair attempts and two decades later, Scovia is well acquainted with fistulas.
"The problem that keeps you in one place, stops you from doing any job, that makes you stink all the time, is [a] fistula; the worst problem," Scovia said.
Scovia explained that her fistula reoccured because she didn't adhere to the post operative instructions after her first repair surgery. After her most recent repair at the Kamuli Mission Hospital, she can now feel the urge to pass urine. After five attempted surgical repair operations, she still hasn't fully recovered, but we haven't lost hope and will continue to offer her treatment until we reach success.
Scovia is one of 14 women that underwent a fistula repair surgery—without paying a cent—at the Kamuli Mission Hospital camp this year. Support for women like Scovia is made possible by the hard work of UVP's fistula ambassadors, our clinical and surgical partners, and with generous support from Fistula Foundation.
By Loy Tumusiime, Assistant Director
*Scovia's story is shared with her consent.