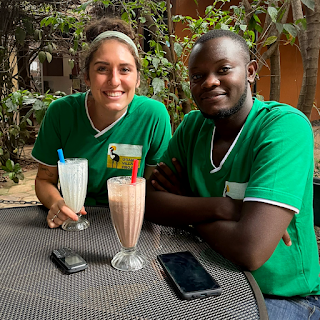 Hello! Morgan and Shafic here, or better known as "the Twins." Together, we support and lead the intern cohort, providing oversight, direction, and guidance while the interns live and work in their respective villages.   
We believe that working with a cross-cultural team is a great opportunity to learn from one another. It can be humbling, as well as humorous, to explore our different cultures and find common ground. In fact, learning new things together is one of our favorite activities. Morgan, who is a sweets connoisseur, introduced Shafic to the American art of roasting s'mores and enjoying milkshakes. Meanwhile, Shafic has taught Morgan how to do all matters "Ugandan style," which includes eating large meals, dancing to Ugandan music, and bargaining at the market.  
Throughout the internship, our responsibility is to work closely to manage five teams of 24 interns in five villages. Our day-to-day work is to ensure all teams have the tools and resources to reach their community members and thrive in village life. Since our interns are required to work in cross-cultural teams, we feel it is important to model how to do this effectively ourselves.
We love being "the Twins" and have fully leaned into this joint persona. Most days you'll find us working together, laughing with and at each other, listening to music, and — of course — drinking milkshakes.    
By Morgan Feldt (International Internship Coordinator) and Shafic Mutegule (VHT-Intern Coordinator)