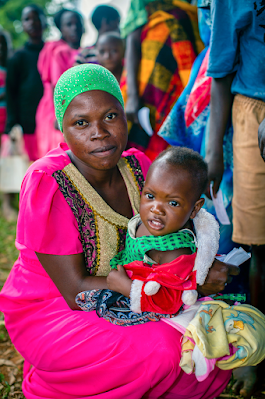 Rachel is a jolly, ambitious, open-minded young lady from Idinda and a single mom of one. Here at Idinda Health Center II, we are sitting together under the cool shade of a tall tree discussing her journey, her challenges, and how she first got involved with UVP.
As a young pregnant person, Rachel had to balance pending motherhood, schooling, and family responsibilities, while also navigating social stigma around her pregnancy. In fear of being seen pregnant, Rachel avoided antenatal care, and didn't consider going for an HIV test to confirm her status before giving birth.
Rachel first met UVP during one of our adolescent reproductive health sessions for youths in 2019. She heard about our programs on the radio and was excited to learn of an upcoming event that she could attend. Despite all of her other responsibilities at home and in the garden, she always made time to attend these sessions and even took a keen interest in leading a few activities!
Through her involvement with UVP, she learned about an upcoming HIV-malaria community outreach event, where we offer testing, treatment, and health referral services. Feeling ready to know her status, Rachel signed up for testing and learned her test results were negative.
"I knew I had to gain [the] confidence to make a bold decision to take the [HIV] test, but the fear in me couldn't let me do so. But this time 'round, I had to overcome the fear…"
Rachel feels empowered now that she knows her status. She was scared to find out, but now she's prepared to take good care of own health, and is eager to support other young people in finding out their own status. There is often a great deal of stigma and fear around HIV in the village, but with Rachel as an ally, we can help reduce these concerns and ensure more youths receive proactive HIV testing. Twekembe! — working together for a healthier Uganda.
By Harriet Nakayiza, HIV and Malaria Program Coordinator